Massey Ferguson 2635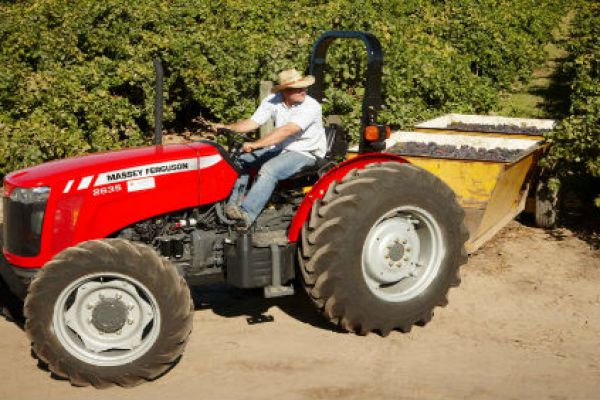 Double tap to zoom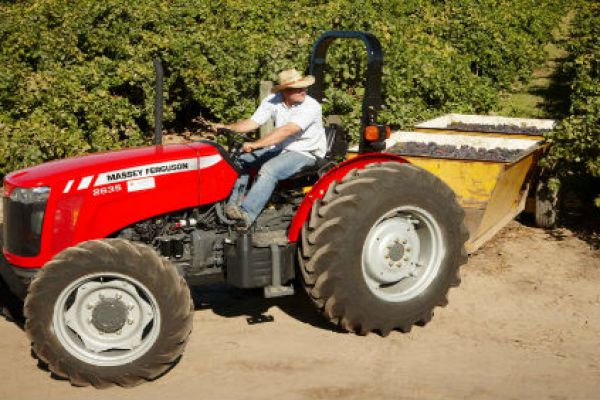 Features
Innovation
The 2600 combines innovation with legendary dependability for a tough little tractor that's ready to go when you are.
Convenient service points: The 2600 is designed to reduce your maintenance time, with 250 hrs. between oil changes, easy access service points & a single-piece flip-up hood.
Freedom of choice: One innovative 2600 feature is your ability to choose the horsepower, transmission, PTO, and 2 or 4WD you want - without paying for features you don't need.
3-point hitch hydraulic lift system controls: Hitch position control and top-link draft sensing lets you operate the 3-point hitch with increased precision
Capability
The 2600 has all the horsepower and features you need to tackle everything to professional grounds maintenance to weekend chores.
Simpson diesel engine: Direct injection gives these large cubic-inch longer-stroke engines massive torque at lower RPMs
High performance hydraulics: 3 independent pumps provide strong loader performance, robust three point hitch capacities, and smooth steering
Optional shuttle transmission: This feature provides faster maneuvering cycles to help you get the job done quicker and easier
Comfort
Easy on and off, open and uncluttered, plenty of leg room - this tractor was built with comfort in mind.
At-a-glance gauges: Simple red and green lights let you know at a glance whether all systems are operating in the normal range
Fingertip controls: Controls & displays are close at hand, but not in your way
Sitting pretty: Feel right at home in the 2600's fully adjustable, spring-suspension seat
Specifications
| | |
| --- | --- |
| MODEL | 2635 |
| Engine |   |
| SAE Gross Engine HP @ rated engine rpm: HP (kW) | 63 (47) @ 2,300 * |
| PTO HP @ rated engine rpm (LIVE PTO): HP (kW) | 54 (40.3) @ 2,300 * |
| PTO HP @ rated engine rpm (Independent PTO): HP (kW) | 52 (38.8) @ 2,300 * |
| SIMPSON® engine model | SJ436E Tier II |
| Cylinders and aspiration | 4 - Natural |
| Total displacement: in. (liters) | 220 (3. 6) |
| Cold Starting Aid: | Thermostat |
| Fuel tank capacity: US gal. (liters) | 11.1 (42) |
| Clutch |   |
| Type with Live PTO | Dry Dual Disc |
| Diameter Traction Clutch: in. (mm) | 12 (305) |
| Diameter of PTO Clutch: in. (mm) 10 (254) 10 (254) 10 (254) | 10 (254) |
| Type with Independent PTO | Dry Single Disc |
| Diameter Traction Clutch: in. (mm) | 12 (305) |
| Hydraulic Engaged Independent PTO Clutch: | Wet Multi Disc |
| Transmission |   |
| Type Standard 8 | 8F x 2R |
| Type Optional | 8F x 8R Shuttle |
| Brakes & Final Drives |   |
| Final drives with 8x2 Transmission | Outboard Planetary |
| Final drives with 8x8 Shuttle Transmission | Outboard Planetary |
| Brakes | Inboard Wet Multi Disc |
| Differential Lock | Foot Operated |
| PTO Type |   |
| Type Standard (8x2 Transmission Only) | Live (Dual Stage Dry Clutch) |
| Type Optional | Independent (Electro-hydraulically engaged Multi Disc Wet Clutch) |
| PTO Speed @ Engine RPM (6 Spline Shaft) | 540 @ 1,790 ERPM |
| Hydraulics |   |
| System type Open Center & Modified Closed Center | Open Center & Modified Closed Center |
| Pump type | Gear & Scotch Yoke |
| Total flow: gpm (lpm) |   |
| (Steering + Aux + 3-point pump) | 22.8 (86) |
| Steering pump flow: gpm (lpm) | 6.9 (26) |
| Auxiliary pump flow: gpm (lpm) | 11.2 (42) |
| 3-point hitch pump: gpm (lpm) | 4.7 (18) |
| Remote Valves Standard: | None |
| Remote Valves Optional: | 1 or 2 Rear Valves |
| Three-Point Hitch |   |
| ASAE category | Category I & II Cross Drilled Ball Ends |
| Extendable lower links | Optional |
| Stabilizers | Chain Type |
| Lift capacity @ hitch point -horizontal position: lbs. (kg) | 4,520 (2,050) |
| Electrical |   |
| Battery CCA | 622 (SAE) |
| Alternator amperage | 36 |
| Trailer outlet | Standard |
| Horn | Standard |
| Weight & Dimensions*** |   |
| Rear tire used for measurement: | 16.9x28 |
| A Wheelbase: in. (mm) 2/4WD | 81 (2,050) / 81 (2,066) |
| B Overall length: in. (mm) 2/4WD | 138 (3,510) / 139 (3,526) |
| C Min overall width: in. (mm) | 73 (1,854) |
| D Min Tread Setting: in. (mm) | 56 (1,420) |
| E Height top of ROPS: in. (mm) | 95 (2,395) |
| F Ground clearance @ drawbar: in. (mm) | 13.5 (350) |
| 2WD platform approx. shipping weight: lbs. (kg) | 5,250 (2,380) |
| 4WD platform approx. shipping weight: lbs. (kg) | 5,690 (2,580) |
| *Manufacturer's Estimate |   |
| ***Tire Sizes Will Vary Dimensions & Weights |   |