Massey Ferguson 5712SL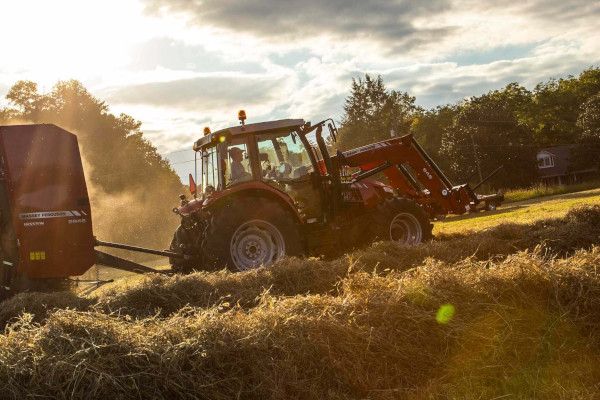 Double tap to zoom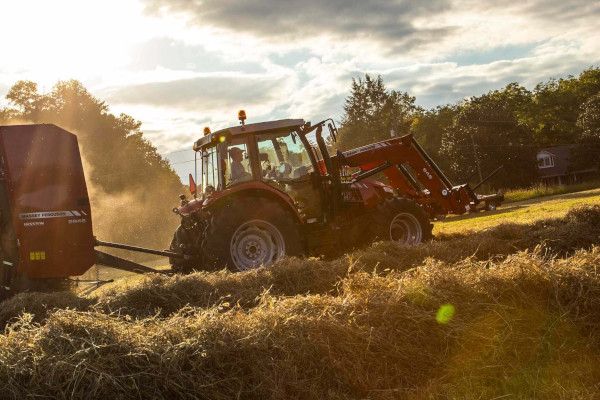 Features
Performance
Our tractor components are built together, so they work better together. Giving you the right level of performance you need to handle any job.
Dyna-4 Transmission: The transmission smoothly shifts gears without the need to clutch making operation easy and straightforward. Four ranges and gears provide the operator with the best working speeds to cover a wide variety of applications.
AGCO Power™ 4-Cylinder 4.4L Engine: The Tier 4 Final engine provides unmatched power, with advanced technology that meets emissions requirements, saves time and makes for easy maintenance. And with no need for a DPF, power is available whenever you need it without compromising fuel efficiency.
Twin Flow System: The optional combined twin flow enables the use of a wide variety of implements based on application. The two pumps combine to create 26 gpm (100 lpm) of flow sent to the implement hydraulics system, allowing for quicker and smoother operation.
Front Axle Suspension: The Massey Ferguson designed and built suspension is completely integrated into the tractor for maximum comfort and maneuverability. It maximizes ground clearance and gives the operator a better turning angle and angle of oscillation.
Ease of Use
The 5700SL Series is engineered for smart, long-lasting operation in the toughest conditions. With features that make it so easy to use, you'll get more done than ever before.
Setup & Information Screen (SIS) Full-Color Dash: The large, non-polarized dash enhances visibility and resolution in a simple-to-navigate system. You can adjust tractor functions and settings right on the screen, without the need for an additional console.
Auto-Guide™ 3000: The optional, fully-integrated auto-guide steering solution delivers user-friendly guidance capabilities that allow you to work faster, smarter and more efficiently.
Auto-Drive: Allows the operator to drive your tractor like a car with an automotive transmission. All you do is use the hand or foot throttle to accelerate and the tractor does the rest.
Joystick: All major tractor functions, including changing direction, changing speeds, declutching and operating the loader, are handled by the joystick. The operator doesn't have to change hand positions to change speed or gears, maximizing comfort.
Power Shuttle Control: An industry-unique power shuttle control allows you to easily upshift and downshift on the control lever and declutch by lifting the lever up.
Anti-Stall: Automatically shifts the transmission in neutral if the engine speed drops below 650 RPM while in gear and working.
Auto-Neutral: Automatically neutralizes the transmission when both brake pedals are applied, without having to use the foot clutch. When you release the brake pedal the transmission reengages.
Comfort
The 5700SL Series gives you all the comfort you need. So even though the work is tough, your tractor should never make things more difficult for you.
Cab: Conveniently-placed controls and reduced 70 DBA noise levels make this our most comfortable, quietest cab yet.
Visio Roof: Provides greater all-around visibility, especially for loader applications, helping to reduce aches and pains caused from having to constantly lean to look around the machine.
Steep Nose Hood: Our exclusive angled-hood design provides unmatched visibility in loader applications, so it's easier to see what's in front of you, allowing you to work safer and more efficiently.
Specifications
Model
MF5712SL
ENGINE
 
Maximum Engine Power HP (kW) @ 1,900 RPM
120
Rated Engine Power HP (kW)
@ 2,200 RPM
115
PTO HP (kW) @ 2,200 RPM
95
Max Torque @ 1600 RPM (Nm)
502
Engine
AGCO Power™ 4-cyl, 4.4 L, intercooled turbocharger,
high-pressure common rail direct fuel injection (HPCR)
Emissions control; EPA Tier 4 compliant
SCR technology (post-combustion DEF), diesel oxidation catalyst (DOC)
DRIVETRAIN
 
Transmission type
Dyna-4 16 x 16 Powershift and Power Shuttle Transmission, Available 13:68:1 Creeper
Gears/Ranges
4 Gears, 4 Ranges, all fully electronic shifting on the roll without foot clutch
Transmission control
Left-hand 3-function power control lever and right-hand T-handle control lever
Clutch
Wet multi-disc clutch, foot pedal and electronic control
Rear axle
Solid cast steel with flange, internal planetary reduction
Brakes
Internal wet disc, hydraulic power assist, individual left and right foot pedal
Differential lock
Fully locking and rear-axle differentials, electro-hydraulically engaged
Front axle
Single-piece steel with outboard planetary final drives, hydraulic suspension optional
HYDRAULICS
 
Hydraulic system
Open-center or closed-center PFC
Hydraulic flow @ rear remotes gpm (LPM)
15 (57) (open center), 26 (100) (Twin Flow) 29 (110) Opt. (closed center)
Remote valves
Up to 4, mechanical and electronic control
Loader joystick
Mechanical multifunction joystick in RH console,
or electronic multifunction joystick in RH seat armrest
3-point type and lift capacity full stroke
@ 24" (610mm) behind ball ends lbs. (kg.)
Cat III, Telescopic Links, 8,575 (3,890)
Rear PTO
540/540e or 540/540e1000, electro-hydraulic engagement and speed selection
OPERATOR AREA
 
Cab
Large 6-post, twin doors, flat foot deck, available mechanical suspension
Customer-focused package
Classic and Deluxe
Electronic user interface
System Information Screen (SIS) or Control Center Display (CCD) color terminal
Electrical system
12-volt system, 120-amp alternator or 175-amp alternator
Steering
Tilt and telescoping
DIMENSIONS
 
Wheelbase in. (mm)
100 (2,550)
Width in. (mm)
79.3 (2,013) to 100.4 (2,550)
Maximum height over cab in. (mm)
111.3 (2,826)
Base weight without ballast lbs. (kg.)
2WD: 8,929 (4,050) 4WD: 10,582 (4,800)
DEF capacity gal. (L)
6.6 (25), left-side fill
Fuel capacity gal. (L)
47 (180), left-side fill