Massey Ferguson 3308C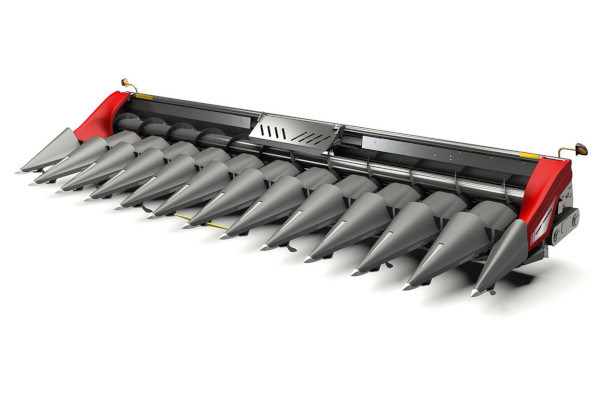 Double tap to zoom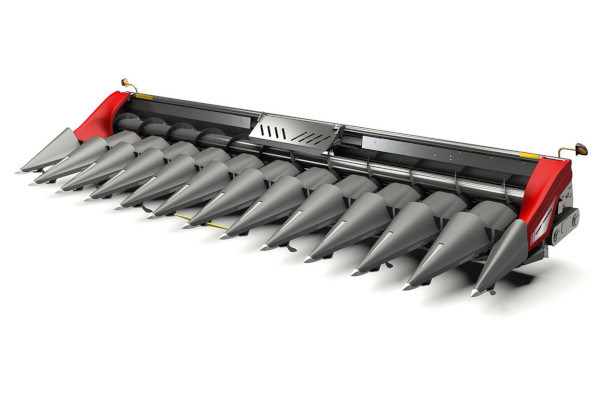 Features
More Opportunities
New standard capabilities give your operation new harvesting opportunities.
Optimized Stalk Rolls: Stalk rolls have point-to-point contact for improved feeding and greater performance. Additionally, the point-to-point design of the rolls ensures the stalk is pulled through without the side-to-side vibration associated with an interlocking roll design. This smoother operation leads to reduced header loss levels.
20 Inch Auger: The large 20inch diameter auger reaches over the gatherer and row unit for maximum capacity and efficient feeding in any condition.
Chopping or Non-Chopping: Available in chopping or non-chopping models, the header allows you to operate in almost any field regardless of residue management preferences. The chopping heads allow the operator to engage or disengage chopping capabilities at each row unit with an easy to use lever.
Fore-Aft Header Tilt: Heads are equipped with hydraulic header fore-aft pitch capability, adjustable on the go from the cab. This allows the operator to "match" the header-feeding angle to the combine height for optimized feeding and exceptional downed corn performance. A hydraulic accumulator provides protection for the combine and header when running the header on the ground.
High Performance Features
High performance features will improve results during harvest and our smart design reduces header loss ultimately leading to an increase in profits.
Low Density Polyethylene Construction: Low-density polyethylene construction of snouts and gatherers absorbs shock from ears, reducing number of bouncing ears and amount of butt shelling - the corn harvested makes it into the combine rather than getting left behind. Each snout is equipped with reflective markers to improve visibility to snouts in low light situations.
Center Auger Hood: The standard center auger hood prevents cobs from going over the top of the header opening while the canted shape of deck plate openings reduces impact shelling from cob impact.
Auger Flighting: Auger flighting pitch has increased while the auger speed has decreased. This allows the auger to gently convey more crop leading to reduced header loss while retaining maximum capacity.
Lugs and Gathering Chains: Design and length of lugs on gathering chains strip less leaves and reduce the amount of trash that is pulled into the machine, which means the combine processes less, increasing operating efficiency.
Snout design: A cove shaped snout design gets under ears without knocking them loose and prevents the ramp launching of cobs. The snout shape is also optimized to slide under and gently pick up downed corn, allowing the header to perform well in a wide range of harvesting conditions.
Optional Features
Take your harvest to the next level with these optional capabilities.
Snout Skids: The optional snout skids are designed to provide smooth flotation of the snouts for a smoother ride.
Reichhardt Row Guidance Ready Snouts: Command Series Corn head snouts are Reichhardt Row Guidance Ready and do not require modification to install row sensing.
Headsight Sensors: Equipping the Command Series corn head with Headsight sensors provides automatic header height control for more accurate and responsive height control. The increased height accuracy and responsiveness leads to reduced operator fatigue and maximized harvesting efficiency.
Stalk Crushers: The stalk stompers effectively crush the remaining standing stalk as the header passes over reducing tire hazards in the field.
Specifications
| | |
| --- | --- |
| Model | 3308C |
| Row Spacing | 30" |
| Chopping Capability | Yes |
| Recommended Combine Class | 6,7,8 |
| Auger Diameter | 20" |
| Auger Pitch | 30" |