Massey Ferguson 4610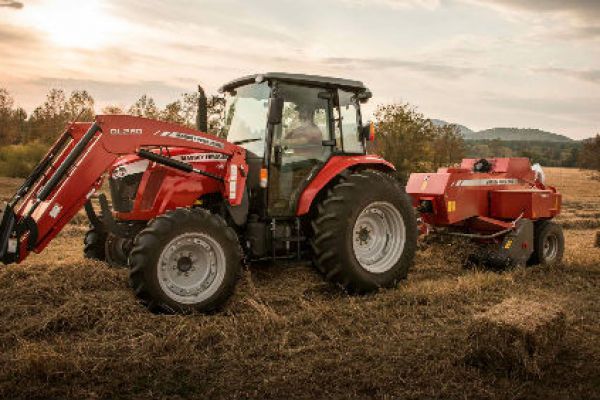 Double tap to zoom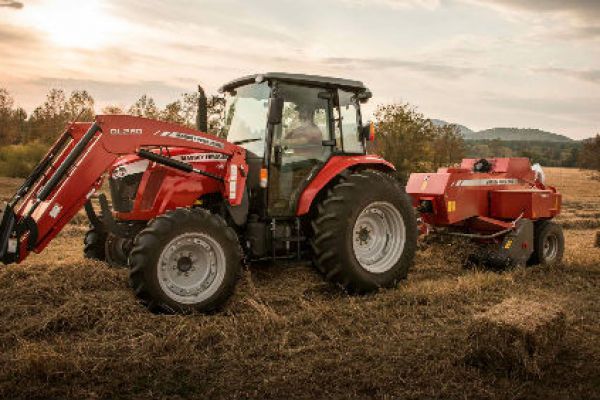 Features
Innovation
The 4600's 3.3L turbocharged engine is the strongest production 3-cylinder off-road diesel in the world today. In fact, this tractor is loaded with innovation.
Advanced 3.3 liter 3-cylinder engine: Our AGCO Power diesel engine has 4 valves per cylinder, electronic engine management & meets Tier 4i emissions standards
Best-in-class hydraulics: Exceptionally high hydraulic flow means faster cycle times for loaders and other hydraulic implements
Enhanced power shuttle transmission: The power shuttle transmission with 12 forward and 12 reverse speeds standard lets you go from forward to reverse repeatedly - without clutching
Capability
Perfect for livestock farming, dairy, hay, and general all-around farm work, these exceptional 2WD and 4WD loader tractors save time, effort and fuel.
Quick-attach loader: Front end loaders feature quick-attach design that makes removal (and reattachment) a snap
Maintenance-free emissions system: It keeps emissions low, preserves power, plus there's no Diesel Particulate Filter to regenerate, saving you time and fuel
High & mighty: The 4WD front axle design provides a high ground clearance to straddle heavy windrows and a high steering angle for maneuverability
Comfort
From the standard loader joystick to easy ground-level refueling, this tractor is designed with you in mind.
Open air or spacious cab: Choose an open station platform or enclosed cab - both with a completely flat foot deck with rubber cover and plenty of foot room
Suspended seat: This fully adjustable and suspended seat with armrests and retractable seat belt makes long days in the saddle comfortable
Convenient controls: Tilt steering and an intuitive layout of controls makes your day more productive and comfortable
Specifications
| | |
| --- | --- |
| Model | 4610 |
| PTO HP @ 2000 RPM (kW) | 80 (59.7) |
| Rate Engine Power @ 2200 RPM HP (kW) | 99 (73.8) |
| Engine make / model | 33 AWIC by AGCO Power , Tier 4i compliant |
| Cylinders / displacement L (CID) | 3-cylinder / 3.3 (201) |
| Aspiration / charge cooling | Turbocharged & intercooled |
| Fuel system | SisuTronic electronic engine management, high pressure common rail, direct injection |
| Emissions control | External Exhaust Gas Recirculation (EGR), Diesel Oxidation Catalyst (DOC) |
| Fuel capacity Gal (L) | 27 (105), under platform for ground fill |
| Transmission |   |
| Type | 12F x 12R Power shuttle |
| Speeds | 6 synchronized gears, 2 ranges |
| Shuttle | Electronic via left hand control lever |
| Rear 3-point Hitch |   |
| Type / ASAE category | Category II with postiion and draft control |
| Lower draft arms | Extendable ball ends |
| Lift capacity @ 24" lbs (kg) | 3,417 (1,550) standard; 4,409 (2,000) optional |
| 4wd Front Axle |   |
| Type | Cast steel housing w/center drive line w/combination bevel gear & planetary final reduction |
| Drive engagement | Mechanical engagement via hand lever |
| Rear Axle |   |
| Type | Flange axle with internal planetary final drives |
| Differential lock | Mechanical engagement via foot pedal |
| Braking | Independent, internal wet multi-disc brakes |
| Power Take Off (PTO) |   |
| Type | Independent, electronically engaged |
| Speeds | 540 / 1,000 RPM standard |
| Hydraulics |   |
| System type/system flow gpm (Lpm) | Open center system / 23.7 (90) |
| Standard flow at remotes gpm (Lpm) | 17.1 (65) |
| Rear remote valves | 1 or 2 standard, up to 3 possible |
| Loader joystick option | Optional, console integrated, with mid valves and couplers |
| Operator's Area |   |
| Open station | Flat deck with rubber mat, folding ROPS |
| Cab | 6-post ROPS, flat deck with rubber mat, HVAC, front wiper, two doors |
| Steering / seat | Deluxe suspended seat w/folding armrests and retractable seat belt, tilt steering |
| Lighting | Roofline flood lights: 2 front, 2 rear (cab only) |
| Electrical system | 12 volt DC system, 95 amp alternator |
| Dimensions |   |
| Height over cab in (mm)* |   |
| Overall length in (mm) |   |
| Wheelbase in (mm) |   |
| Min. width at fenders in (mm) |   |
| 4wd ROPS shipping weight lbs (kg) | 6,503 (2,950) |
| 4wd cab shipping weight lbs (kg) | 6,945 (3,150) |
| *Can vary depending on tire size |   |